A look at Firefly Aerospace, and the ups and downs of this plucky NewSpace launch startup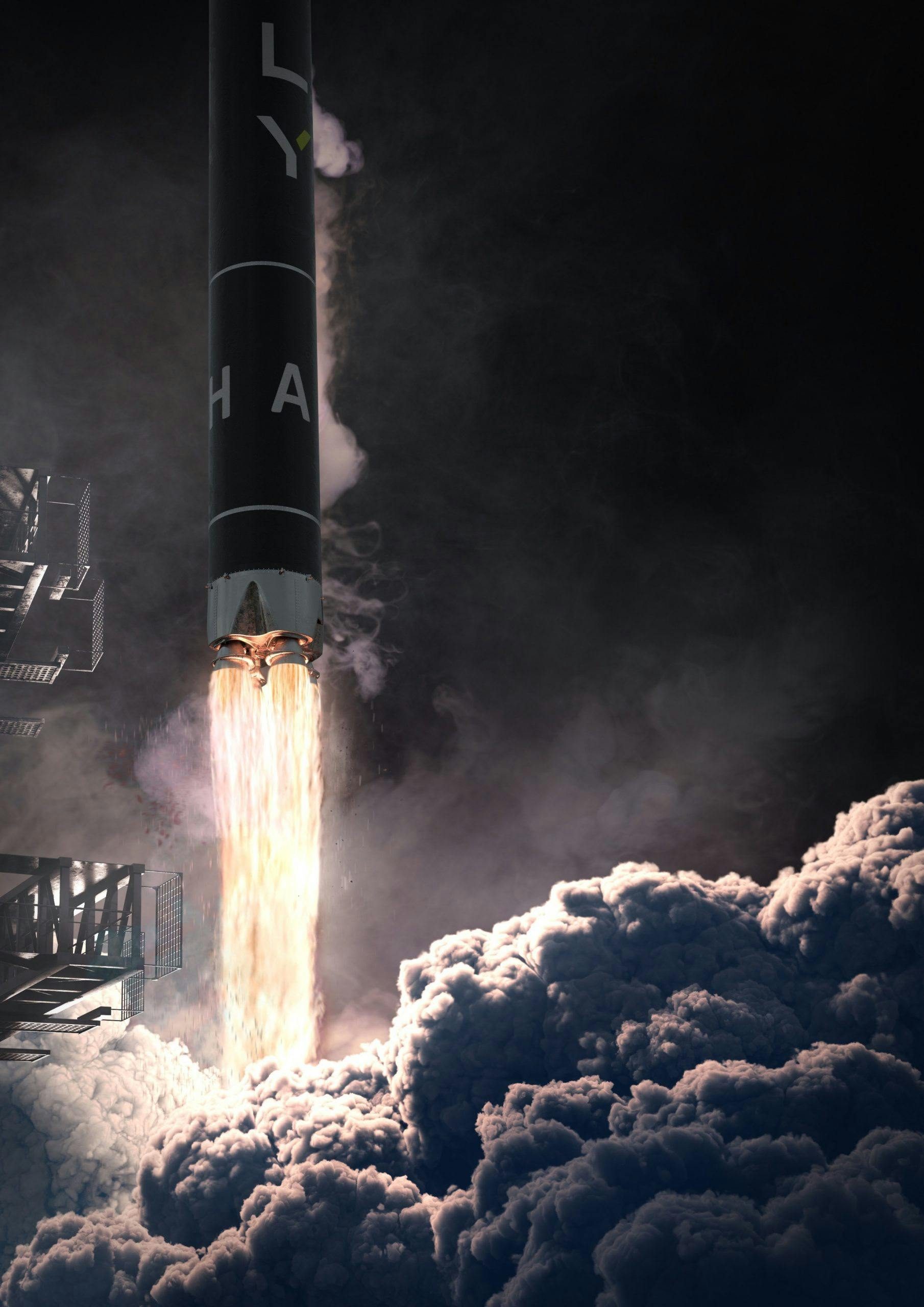 Blog
If there's one company that personifies the challenges, exciting successes, crushing defeats, and cockeyed optimism of a 21st-century aerospace startup, it has to be Firefly Aerospace. Founded in 2014, bankrupt by 2016 (before launching anything), and rescued by a series of high-profile investors, like the proverbial phoenix rising from its own ashes, Firefly Aerospace has recently reached orbit and is kicking ass, smashing milestones, partnering with NASA for high-profile Moon landings, and raising a grundle of dough from true believers. Let's go over the ups and downs of this plucky, Texas-based aerospace firm.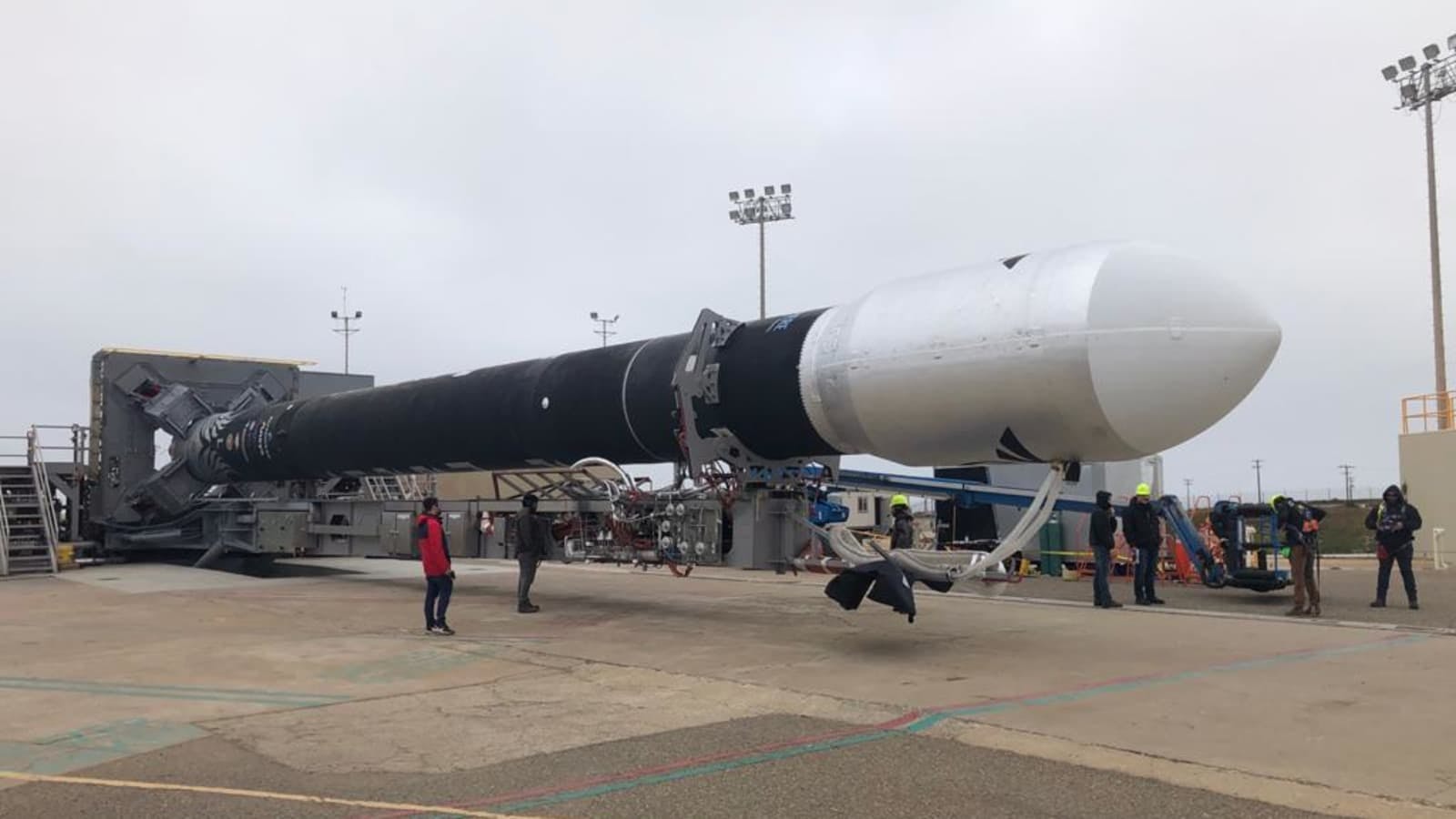 Firefly's sputtering start, bankruptcies, and rescues by investors
Firefly's original company was founded in 2014 by Tom Markusic, a SpaceX, Blue Origin and Virgin Galactic alum. Like many "NewSpace" firms, the primary goal of Firefly was and is to reduce the cost and increase the availability of space launches for the private and public sector. TechCrunch reports, "In its original incarnation, Firefly began to develop [their] Alpha rocket for use as an air-launched rocket with Paul Allen's Stratolaunch system. But a trade secrets lawsuit from Virgin Galactic, mounting costs and the withdrawal of a major investor saw the company run out of money in 2016, before launching anything. A series of maneuvers followed, including a lightning asset sale and a brief Chapter 7 bankruptcy that are still the subject of litigation by the company's early investors."
Following the bankruptcy filing, Ukrainian bazillionaire Max Polyakov stepped in via his venture capital company, Noosphere Venture Partners, and became Firefly's largest shareholder. Investors and company execs cheered the move, but "Um, guys? Not so fast," said the US government, who expressed national security concerns about Polyakov's ownership of tech and intellectual property in such a launchy, 'splodey, spacey company. These concerns were serious enough that, in early 2022, Polyakov agreed to sell his ownership in Firefly to aerospace private equity firm AE Industrial Partners (AEI), who has a history of acquiring struggling space startups. At the time, Firefly was valued at approximately $1 billion.
Firefly has grown used to these ups and downs, and has been called down and out more than once, but company leadership has been consistently optimistic. In February 2019, Forbes reported that Firefly was "back from the dead" after its predecessor company, Firefly Space Systems, had filed for bankruptcy just 3 years prior. However, Mark Watt, one of the company's founders and directors, eschewed the obvious phoenix analogies, choosing instead to couch the struggles as natural progression, and, if he is to be believed, a very intentional development arc.
"We've been back in business for two and a half years, and it never felt like it was rising from the ashes," said Watt. "It was a natural progression for the business. It was very calculated [in terms of] the architecture and the technology."
Whether or not the company's struggles could be said to be calculated or intentional is up for debate, but there's no denying that Firefly leadership maintains a positive and optimistic view of technological and corporate failures. Dale Ketcham, Firefly's vice-president of government and external affairs, said, "You are going to have bankruptcies, failures, startups, all the stuff that proliferates in the commercial market – in every commercial market in America. That's going to become more commonplace in the space marketplace. That's not a bad thing. That's evidence of a thriving market."
If failures are indeed evidence of a thriving market, Firefly would soon be thriving in a spectacular fashion, as we'll see below.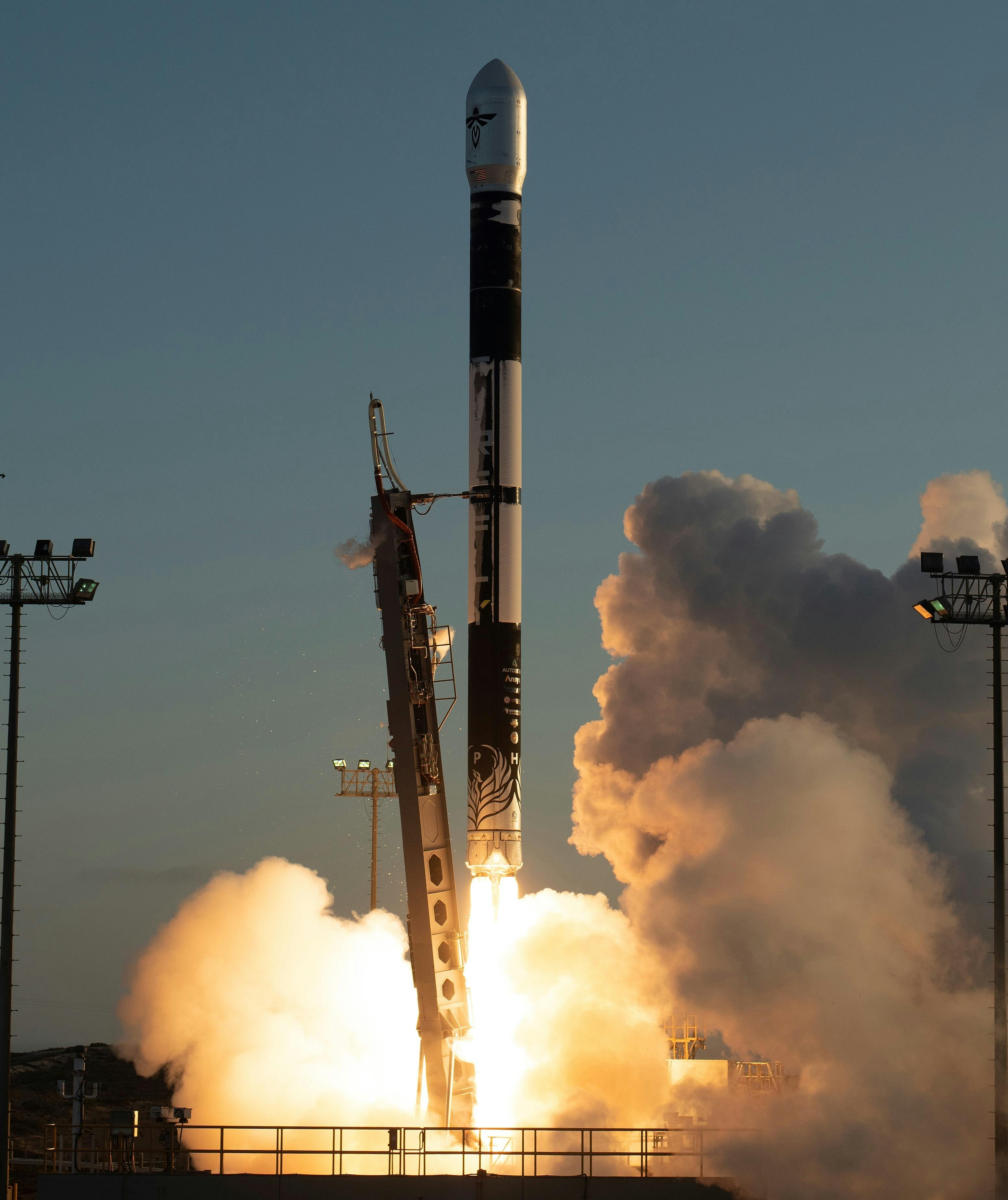 NASA awards Firefly Aerospace $93+ million for Artemis Moon delivery in 2023
On February 4, 2021, NASA announced it had selected Firefly as one of its commercial lunar payload services (CLPS) partners as part of NASA's Artemis program. The contract includes around $93.3 million for Firefly to deliver a suite of 10 science investigations and technology demonstrations to the Moon in 2023, utilizing Firefly's Blue Ghost lunar lander design. (Incidentally, the lander is named after the blue ghost firefly Phausis reticulata. Cute!)
The delivery of the lander is planned for Mare Crisium, a low-lying basin on the Moon's near side. The lander and its associated technology will investigate a variety of lunar surface conditions and resources, intended to help prepare for human missions to the lunar surface under the Artemis program and possibly beyond.
The award contract specifies that Firefly Aerospace will be responsible for end-to-end delivery services, including payload integration, launch from Earth, landing on the Moon, and mission operations. While we hope to see Firefly succeed in a Moon launch and landing in 2023, they really have their work cut out for them, as we would soon learn.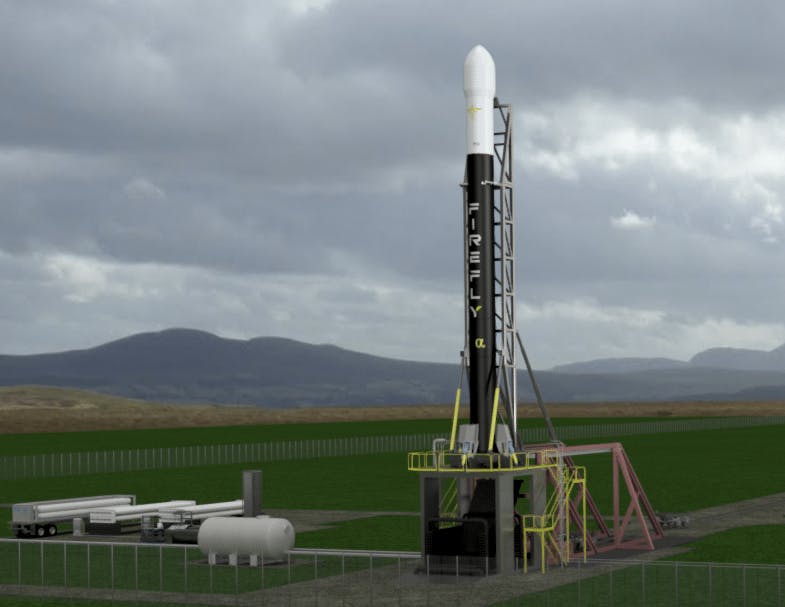 First Firefly Alpha rocket orbital launch is "terminated"... with extreme prejudice
Firefly's bread-and-butter space vehicle is its "Space Utility Vehicle" or SUV (see what they did there?), paired with its Alpha rocket. The SUV "harnesses the benefits of high-performance solar electric propulsion." This author is not exactly sure how that works in space, but will take Firefly's word for it. The Alpha rocket is 95 feet (~30m) tall, 6 feet (1.8m) in diameter for the main rocket body, and 6.6 feet (2m) in diameter for the payload fairing. 
The Alpha isn't a reusable rocket system like SpaceX's Falcon or Starship designs, but this helps keep costs low. Firefly says, "Offering the highest payload capacity for the lowest cost per kilogram in its vehicle class, Alpha is the world's most advanced 1,000 kg small satellite launch vehicle. Using tried and true, flight-proven rocket technologies, Alpha is 100% manufactured in the USA and designed to be the most reliable small satellite launcher available. Alpha's pump-fed, regeneratively-cooled engines use standard LOx/RP, and our avionics systems, such as the flight computer and communication system, employ COTS components with established flight heritage. Modern advances in carbon composite materials are used to create strong, lightweight primary structures such as propellant tanks. Entirely manufactured and launched in the USA, we're able to keep costs to a minimum while achieving unprecedented dependability."
That "unprecedented dependability" was called into serious question on the first orbital launch attempt of the Firefly Alpha on September 2, 2021, when it experienced an "anomaly" at around 2.5 minutes into its inaugural flight, and was terminated by US Space Force officials after it veered off course into the horizontal. Initially viewers were not sure what caused the explosion, but afterward it was announced that the Alpha was purposely blown up for safety reasons. There were no injuries, but there were some reports by observers of debris hitting the ground.
SpaceNews reported, "The rocket's first stage may have been underperforming. According to a mission overview distributed by Firefly before the launch, the vehicle was supposed to reach the speed of Mach One 67 seconds after liftoff, followed by maximum dynamic pressure 9 seconds later. However, launch controllers did not report that the vehicle was supersonic until 2 minutes and 20 seconds after liftoff, about 10 seconds before the vehicle exploded."
Firefly officials were typically bubbly and optimistic both before and after the launch. "Our really big goal is to get Alpha to space. If we can get to orbit, even better," said Lauren Lyons, chief operating officer of Firefly, to SpaceNews reps during a pre-launch tour of the company's launch control center. "Our goals are to collect as much data as we possibly can and take Alpha as far as it can go." After the explosion, a Firefly statement emphasized that the Alpha flight achieved a number of mission objectives, including, booster ignition, liftoff, and supersonic speed, and collected "a substantial amount of flight data."
While launch failures are certainly disappointing, they are not uncommon at all, particularly for a first attempt at orbital launch. Three of Firefly's chief competitors in the small-satellite launch business – Rocket Lab, Virgin Orbit and Astra – failed on their first orbital attempts as well.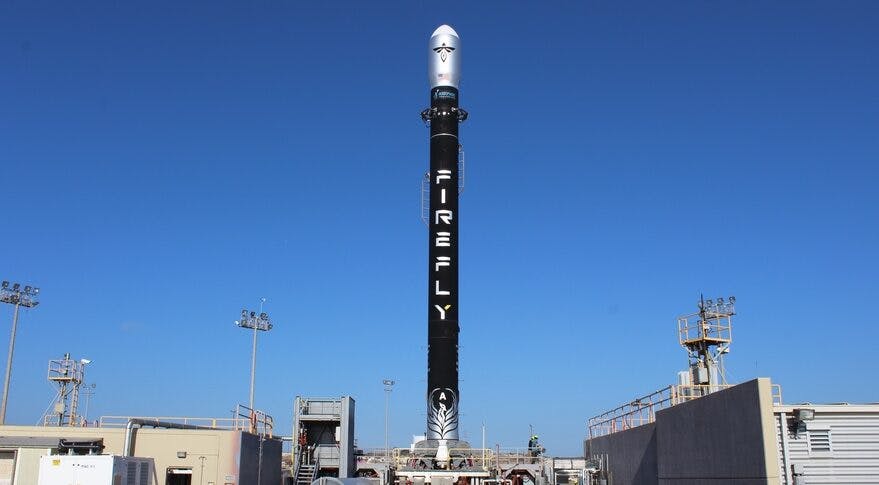 Second Firefly Alpha rocket launch successfully reaches orbit! (with caveats)
On October 1, 2022, just over a year after the first Alpha launch's spectacular failure, Firefly's second orbital Alpha launch successfully reached orbit, a huge milestone by anyone's standards.
However, analysis of the cargo deployment procedure showed that the three satellite payloads were released too low and, as a result, dropped out of Low Earth Orbit (LEO) much more quickly than intended… within a few days of launch.
Not to be dismayed by this launch's failure to reach its full objectives, Firefly was quick to point out that no commercial rocket launch company has ever reached orbit on its first try, and that with the (partial) success of this mission, they are now "the first company to launch and reach orbit from US soil in only its second attempt."
Firefly became only the fifth US-based rocket company to reach orbit in the past 15 years, joining SpaceX, Rocket Lab, Virgin Orbit, and Astra.
Firefly aims to raise up to $300M in private fundraising round 
Building on the buzz and success of the Alpha orbital launch, in late October 2022 Firefly announced a new private fundraising round of up to $300 million, aiming to complete the round by the end of the year. 
Firefly Chief Executive Officer Bill Weber told Reuters in an interview that fresh funding would help the company complete construction of manufacturing facilities for its Alpha rocket in Cape Canaveral, Florida, and accelerate development of a bigger rocket the company plans to build with Northrop Grumman.
According to the US News report, "Firefly is already taking orders of roughly $15 million per launch for its 95 foot-tall Alpha rocket, offering governments and satellite companies a medium-sized ride to space. SpaceX's bigger Falcon 9 rocket costs $62 million and Rocket Lab's smaller Electron rocket costs $7 million [per launch]."
This round of funding is critical, as US News points out, "Investments in space companies with capital-intensive projects have fallen in the third quarter, as decades-high inflation and rapidly rising interest rates force investors to focus on companies with viable products. Venture capital investments in space companies fell 44% from a year earlier." 
On November 2, 2022, Firefly announced some more corporate leadership shakeups, including naming former GE senior executive Dan Fermon as COO, and Justin Siebert as the Vice President of Operations and Production, along with some changes to Firefly's advisory board and board of directors. On December 6, Firefly named a new VP of Spacecraft, Jana Spruce, coming from Collins Aerospace.
Ostensibly these changes will encourage private investors to help Firefly reach their $300M fundraising target and improve the odds of this plucky space startup in reaching its lofty goals of 6 Alpha orbital launches for 2023 and 12 for 2024, plus the Blue Ghost/Artemis Moon landing already slated for 2023, bankrolled by NASA. 
More than ever before, it's certainly "go time" for Firefly Aerospace, and we're all keeping our fingers crossed that they can meet these lofty expectations.
–By Jeff Davis, Intergalactic Scribe
Sources:
https://www.nasa.gov/press-release/nasa-selects-firefly-aerospace-for-artemis-commercial-moon-delivery-in-2023
https://money.usnews.com/investing/news/articles/2022-10-31/rocket-maker-firefly-aerospace-looks-to-raise-up-to-300-million-sources
https://www.bloomberg.com/news/articles/2021-12-29/firefly-owner-max-polyakov-to-sell-stake-in-rocket-startup
https://www.businesswire.com/news/home/20221102005416/en/Firefly-Aerospace-Names-Former-GE-Senior-Executive-Dan-Fermon-as-Chief-Operating-Officer/
https://firefly.com/news/firefly-aerospace-successfully-reaches-orbit-and-deploys-customer-payloads-with-its-alpha-rocket/
https://www.nbcnews.com/science/space/fireflys-first-rocket-explodes-launch-california-rcna1900
https://www.space.com/firefly-aerospace-first-alpha-rocket-launch-failure
https://www.universetoday.com/157956/a-year-after-a-failed-launch-firefly-reaches-orbit-and-deploys-satellites/
https://www.statesman.com/story/business/2022/03/29/austins-firefly-aerospace-gets-new-owner-plans-another-launch/7169748001/
https://www.forbes.com/sites/elizabethhowell1/2019/02/22/how-firefly-aerospace-came-back-from-the-dead/
https://techcrunch.com/2022/03/22/firefly-aerospace-spac-merger-fcc-filing/
https://spacenews.com/firefly-alpha-explodes-during-first-launch/