2021-04-26
Here's why we changed our name to Intergalactic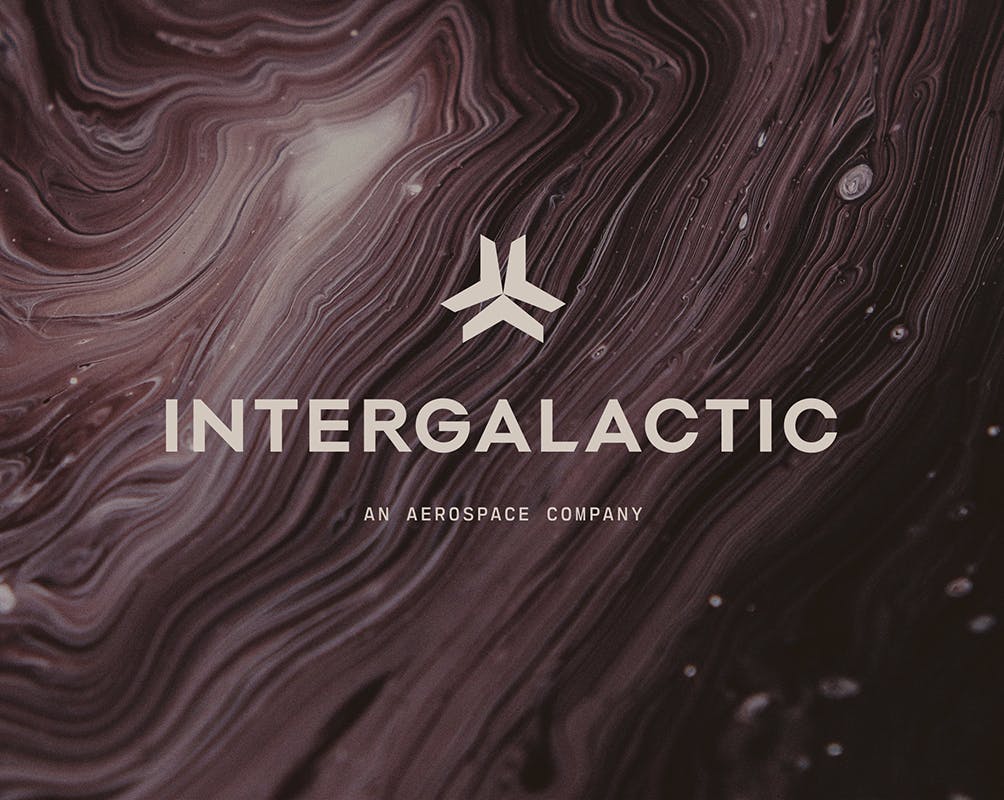 Blog
If you've been following our journey, you know our company was founded as Airborne ECS (short for environmental control systems). We just changed our name to Intergalactic. We'd like to explain why.
First things first, when you hear our new company name, does a certain all-time banger from the Beastie Boys start playing in your mind? Ours too. Glad we're on the same page.
Now, back to the why. We'll dive into the details shortly, but to sum up, we changed our brand because we needed an identity as expansive as our ambitions. Intergalactic seemed about right.
You never forget your first
Our company was founded in 2016 by a handful of aerospace industry veterans with an axe to grind. They'd spent years trying to push technical innovations at lumbering legacy aerospace giants only to be told, essentially, to stay focused on "good enough."
Our founding engineers started Airborne ECS on the central insight that heat kills innovation in aerospace, and thermal management solutions weren't keeping up. So, they founded a new company based on totally novel approaches to mitigating heat.
The company's name, Airborne ECS, reflected an early focus on building environmental control systems for the commercial and defense aviation sectors. Our color pallet, comprised of blues and cool accent tones, was an homage to some of the most storied players in aerospace: Boeing, Airbus, NASA, and the U.S. Air Force. Our first brand icon was Boreas, the Greek god of the north wind, signifying our place in the sky. Check out our throwback Airborne ECS logo.
Under new management
In 2019, RAM Company bought a controlling stake in Airborne ECS and moved the company from Port Angeles, Washington, to St. George, Utah. We're in the process of building a shiny new headquarters as an anchor to the Tech Ridge development, which is a mixed-use tech situation on top of a picturesque red-rock bluff. There's no aerospace office experience like it in the world. 
With the move, we also started expanding our field of vision. We see constraining technology problems – like heat barriers – across every frontier tech sector. Civil aviation, defense aerospace, commercial space, and even next-generation land and sea platforms all face unprecedented technical challenges. We want to solve the heat problem across all sectors and then expand into adjacent opportunities.
In contemplating our company's evolution, we realized our founding brand was no longer sufficient. Our ambitions include the air but aren't limited to it. Our reach extends from the deepest recesses of the Mariana Trench to the vast unexplored regions of space. Our brand needs to reflect our expansive vision. 
The innovation imperative
We're not the only ones feeling the gravitational pull of the next "one giant leap." As our CEO, Brian McCann, wrote in a joint op-ed with the head of Northrop Grumman's massive GBSD initiative, "powerful forces are converging to put a renewed focus on aerospace."
Across the civil, defense, and space sectors, incremental progress is no longer enough. The zero-risk generation is being supplanted by the zero-boundaries one. "Innovate or get out of the way" is the war cry, and it reverberates throughout the entire aerospace supply chain. 
You can't build tomorrow's breakthroughs with yesterday's technologies. Next-generation programs create unprecedented mechanical, computational, and physical stressors. All of these problems must be solved for our next wave of moonshots to take flight. The current supply chain won't hack it. 
Heat is a constraining problem, and we're building a completely novel solution. We started by pioneering micro tube technology in our heat exchanger, which is the heart of our thermal management systems. We've also invested considerable time, resources, and ingenuity into developing novel thermal subsystems, equipment, components, intelligent software, and integration processes. 
As a result, our thermal management systems are three times smaller, lighter, and more efficient than anything in aerospace. We can reject heat on military fighter jets, supersonic commercial airliners, electric passenger planes, interplanetary rockets, high-energy laser weapons, deep sea submersibles, massive ground vehicles, luxury yachts, or propulsion systems for small satellite constellations. 
We have the technology to break heat barriers in space, sky, and beyond. But we need our brand to talk the talk just as our tech walks the walk. 
Going Intergalactic
When we decided to rebrand, we selected Bondir as our creative partner. We went through a full exploratory process to uncover our company DNA, our aspirations, and our unique personality. Bondir helped us pour those elements into the mix and make something tangible of it all. 
At Intergalactic, we do serious work but we don't take ourselves too seriously. We're inspired by aerospace pioneers like Neil Armstrong and Amelia Earhart and boundary pushers like Skunkworks and SpaceX. We pay attention to details and think outside the box to solve elusive problems in new ways. 
We also love 80s pop culture and hip-hop music. 
We explored a bunch of really cool name options. Ultimately, we settled on Intergalactic because (1) it captures our out-of-this-world ambitions (2) it connects us with the innovator's class of companies like SpaceX and Blue Origin (3) it gets that certain all-time banger Beastie Boys track playing in your head. 
With the name in place, we turned to our visual identity: colors, wordmark, icon. For the icon, Bondir came up with what we affectionately call the "Triflux" mark, which plays on the flux capacitor that fueled Doc Brown's time-traveling DeLorean in the 80s movie franchise, Back to the Future. 
The Triflux brings together a bunch of subtle shapes that evoke meaning for us. The wing shape is classic aviation. The chevrons are a symbol of military achievement. The triangular shape smacks of the flux capacitor, signaling a huge leap in innovation. And it kinda looks like a snowflake, which is appropriately "cool" for a thermal management company. 

For the wordmark, we wanted something bold and memorable. "Intergalactic" is an awesome word, but it's long (five syllables!) and not exactly visually appealing, especially in a logo format. Bondir used an all-caps format to project strength and create a pleasing aesthetic. 

Lastly, we added the "an aerospace company" positioning statement to ensure that people know what we do. "Intergalactic? Is that a dance club?" No, silly. We're an aerospace systems integrator! (But some of us do like Skrillex, just saying.)
With the logo in place, Bondir rounded out our color pallet (bold dark tones with bright red accents), a strong typography set, and a photography style that screams "we're taking you into the future whether you like it or not."
What's next?
If you're reading this, you know our website URL is IG.space, and our site looks extra rad. Style is important to us, but only in as much as it gives proper attention to our substance. With our new brand in place, we have a look and feel that does justice to the incredible innovations of our crack engineering crew. 
From here, our goal is to become the thermal systems integrator of record. We want to own the heat problem in the civil, defense, and space sectors. We're well positioned to do it, and we won't stop until we're enabling every moonshot of this generation. 
Heat kills innovation. Intergalactic removes heat barriers. You might say we're known to make the heat, mmm, drop.