Intergalactic, RAM raise $40,000 to help send Make-A-Wish Utah recipient to Space Camp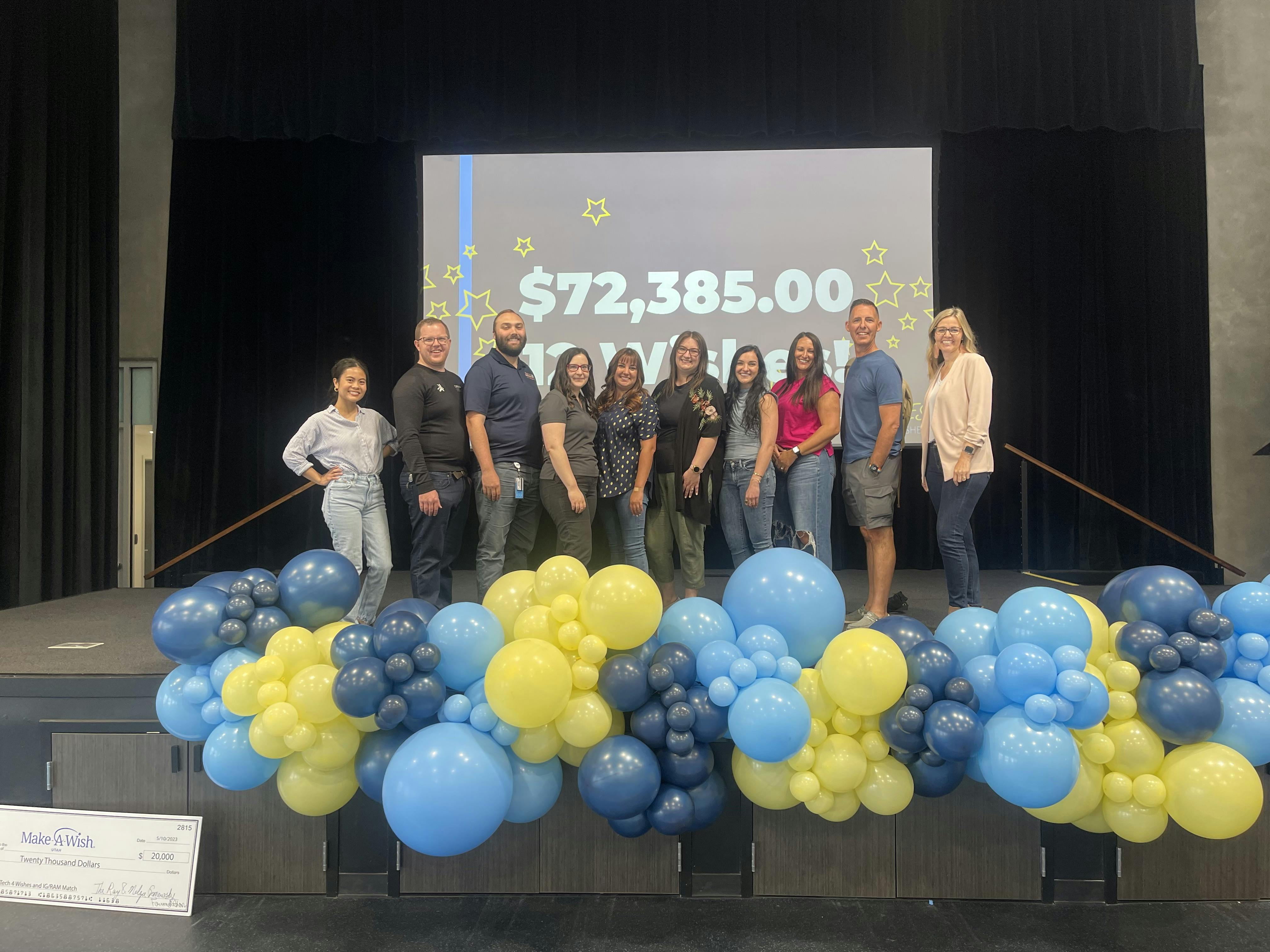 Press release archive
Tech-4-Wishes fundraising effort included donations from employees and a $20,000 match from RAM co-founders Ray and Melzie Ganowsky. 
Overall, the Tech-4-Wishes campaign raised more than $72,000 to grant wishes for 12 Utah kids. 
ST.GEORGE, Utah – May 22, 2023 – Intergalactic, maker of the most advanced thermal management systems for space and sky, and RAM Aviation Space & Defense, premier manufacturer of actuated parts for air and space, today announced that the companies raised a combined $40,220 for the annual Tech-4-Wishes campaign for Make-A-Wish Utah.  
Intergalactic and RAM, both headquartered in St. George and with common owners, led the Tech-4-Wishes fundraising campaign for wish kid Ethan, a 15-year-old Utah boy whose has been diagnosed with leukemia and wished to attend Space Camp in July 2023, and other Utah kids in need of wishes granted. 
"It's always fulfilling to support the good work Make-A-Wish does on behalf of deserving Utah kids, but it's especially rewarding to help Ethan realize a dream that's at the heart of our missions at Intergalactic and RAM," said Intergalactic CEO Brian McCann. "Space is inspiring on so many levels, and we're proud to have played a role in helping Ethan and other deserving kids have their wishes become reality."  
In connection with the Tech-4-Wishes campaign, Intergalactic and RAM combined to raise $20,220 from crew member donations, plus a $20,000 match from RAM co-founders Ray and Melzie Ganowsky. To raise the funds, Intergalactic and RAM planned a number of events, including a day of golf at BigShots Golf, a water-bottle rocket making competition, and a swag auction that ended with a homemade blanket with the Intergalactic logo fetching a total of $8,000 for the cause.  

"We are incredibly grateful for the support of our partners and community members in Southern Utah. Wishes play an integral part in a child's recovery and it is our vision to extend the life-changing power of a wish to every eligible child in Utah," said Daniel Dudley, Chief Development Officer with Make-A-Wish Utah. "Thanks to the generosity and dedication of our Tech-4-Wishes team, we are one large step closer to achieving this goal." 
Tech-4-Wishes is a collaboration between Southern Utah tech companies Intergalactic, RAM, busybusy, Cingo Solutions, Dixie Technical College, Planstin, Vasion, and Zonos, who have banned together under the goal of granting wishes for Utah children battling critical illnesses. The Tech-4-Wishes initiative is a part of Make-A-Wish Utah's Drive for Wishes event, a month-long fundraiser to drive awareness and support of local wishes to communities throughout the state. The group concluded their third annual Tech-4-Wishes campaign on Thursday, May 11. In all, the 2023 Tech-4-Wishes campaign raised more than $72,000 to grant 12 wishes – two more than last year. 
"I'm so proud of how the crew at Intergalactic and RAM leaned into this effort to support kids in our community dealing with critical illnesses," said Gregg Robison, CEO of RAM. "We're also proud to partner with others in southern Utah's technology sector on this important work each year. It's become a point of pride for us. I can't think of a more worthy cause than making kids' wishes come true." 
For more information on Tech-4-Wishes, click here.  
### 
About Intergalactic 
We're on the verge of a new era in space and sky, with innovation happening at a rate not seen since the Space Race. But innovation requires breaking barriers, and in space and aviation, heat barriers are among the most formidable. That's where Intergalactic comes in. We're an aerospace systems integrator pioneering the smallest, lightest, and most advanced thermal management solutions in the space, defense, and commercial aviation sectors. We engineer and integrate next-generation subsystems, proprietary equipment, and intelligent software to enable boundary pushing performance and unrivaled reliability in space, sky, undersea, or on land. Learn more at www.ig.space.  
About RAM Aviation Space & Defense 
Founded in 1975 as RAM Company, RAM Aviation, Space & Defense has grown to become a premier supplier of actuation products, namely Solenoid valves, linear and rotary solenoids, and check and relief valves.  From small beginnings with engine manufacturers, RAM ASD now supplies products and services to hundreds of major players in all the aviation, space, and defense markets. Learn more at www.ramasd.com.  
About Make-A-Wish® Utah 
Make-A-Wish® Utah creates life-changing wishes for children with critical illnesses. We are on a quest to bring every eligible child's wish to life, because a wish is an integral part of a child's treatment. Research shows children who have wishes granted can build the physical and emotional strength they need to fight a critical illness. Located in its facility in Murray, A Wishing Place, Make-A-Wish® Utah offers a life-affirming wish experience at a time of critical need. For more information, visit us online at www.utah.wish.org, on social @makeawishutah or give us a call at (801) 262-9474.