Intergalactic wins ESGR Pro Patria Award for supporting employees who serve in the National Guard and Reserve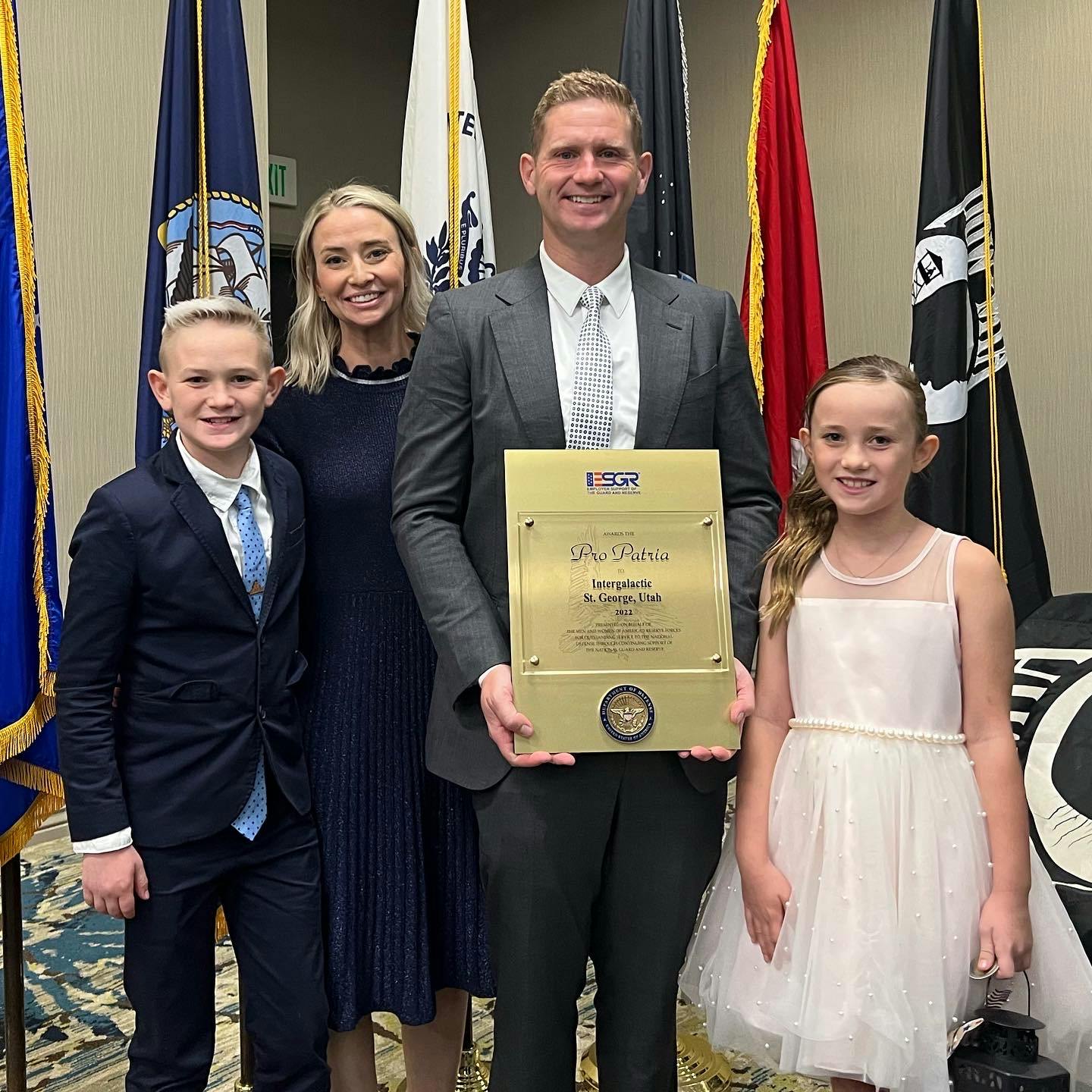 Press release archive
Intergalactic selected as one of three Utah winners by the ESGR State Committee for exceptional leadership and policy support for employees with part-time military service obligations.  
SALT LAKE CITY – September 16, 2022 – Intergalactic, maker of the most advanced next-generation thermal management systems for sky and space, today was presented with the Pro Patria Award from Employer Support of the Guard and Reserve (ESGR), the leading U.S. Department of Defense program for promoting cooperation between private-sector employers and their employees who serve in the National Guard and Reserve.  
ESGR's Pro Patria Award is presented annually by each ESGR State Committee to one small, one large, and one public sector employer in their state or territory. To qualify for Pro Patria, employers must demonstrate dedication and support to Guard and Reserve employees by adopting personnel policies that make it easier for employees to participate in their required military duties. Pro Patria is the highest award bestowed by an ESGR State Committee and requires that the employers was previously honored with the Above and Beyond Award and Patriot Award.  
"We're humbled to be one of three Utah companies honored with the Pro Patria Award," said Intergalactic CEO Brian McCann, who was present at the ESGR ceremony in Salt Lake City to receive the award. "The men and women of the U.S. armed forces provide an incalculable service to this nation and we're proud to count many members of the National Guard and Reserves among our crew. We're grateful for their contributions to our growing company and the ongoing needs of our country." 
All ESGR awards come from employee nominations, with winners selected on the basis of leadership and policy support for the flexible work arrangements necessary for concurrent full-time civilian work and part-time military service. ESGR's top national award is the Secretary of Defense Employer Support Freedom Award.  
"The most powerful aspect of this accolade is that it came from one of our crew members taking the time to nominated Intergalactic," McCann said. "This award wasn't even on our radar previously, but as we've learned more about it the importance of supporting our employees in their service to country has become even more clear. We're motivated to find even more ways to attract members of the Guard and Reserve to our company and support them in fulfilling their vital service duties." 
Learn more about ESGR's Pro Patria Award here. Learn more about Intergalactic here.  
###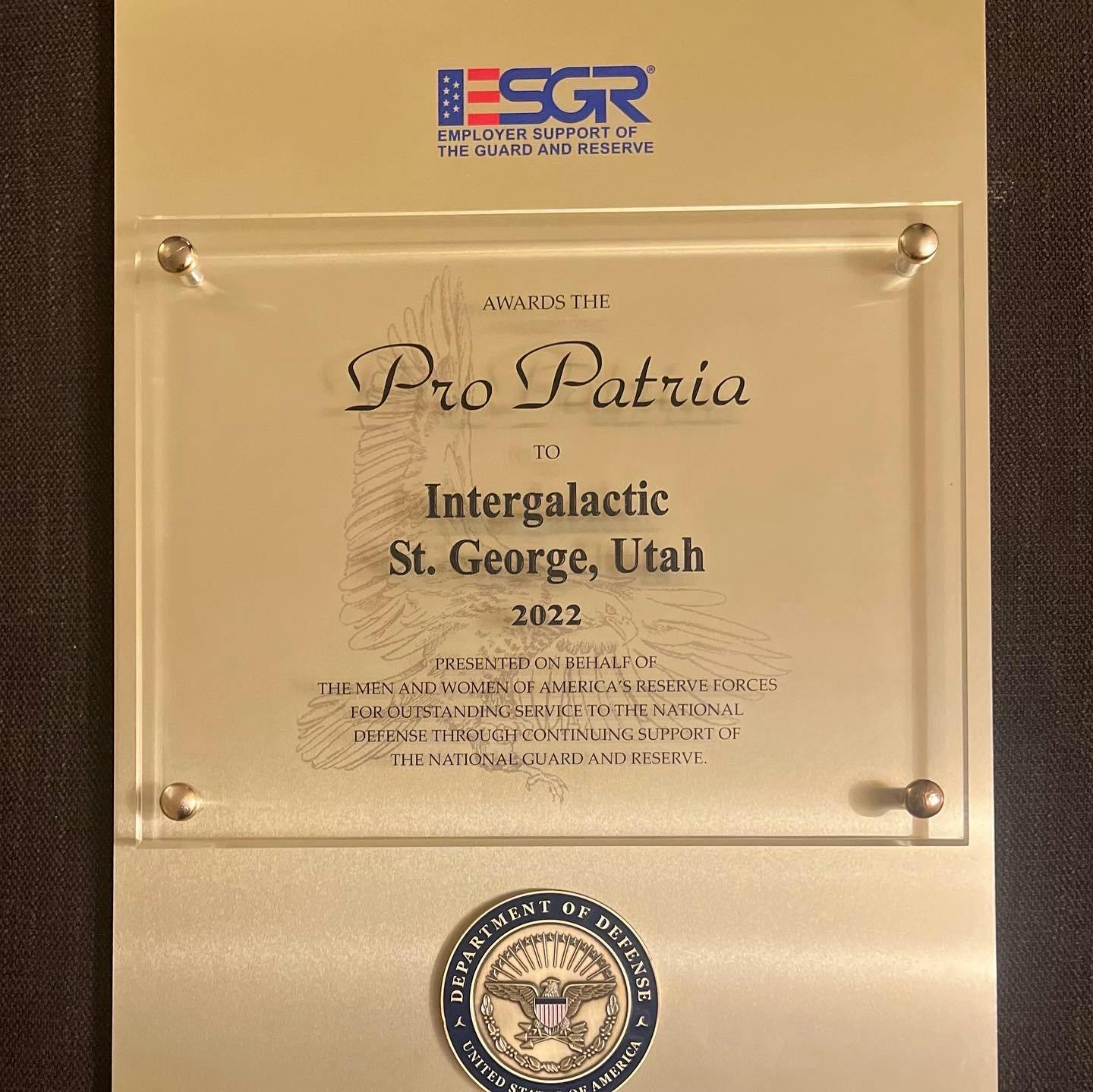 About ESGR 
ESGR, a Department of Defense office, was established in 1972 to promote cooperation and understanding between Reserve Component Service members and their civilian employers and to assist in the resolution of conflicts arising from an employee's military commitment. ESGR is supported by a network of more than 3,000 volunteers in 54 committees located across all 50 states, the District of Columbia, Guam-CNMI (Commonwealth of the Northern Mariana Islands), Puerto Rico, and the U.S. Virgin Islands. Volunteers, hailing from small business and industry, government, education, and prior military service bring a vast wealth of experience to assist in serving employers, Service members, and their families. Together with Headquarters ESGR staff and a small cadre of support staff for each State Committee, volunteers work to promote and enhance employer support for military service in the Guard and Reserve. 
Learn more about us here: https://www.dvidshub.net/video/766889/esgr-mission-video 
About Intergalactic 
We're on the verge of a new era in space and sky, with innovation happening at a rate not seen since the Space Race. But innovation requires breaking barriers, and in space and aviation, heat barriers are among the most formidable. That's where Intergalactic comes in. We're an aerospace systems integrator pioneering the smallest, lightest, and most advanced thermal management solutions in the space, defense, and commercial aviation sectors. We engineer and integrate next-generation subsystems, proprietary equipment, and intelligent software to enable boundary pushing performance and unrivaled reliability in space, sky, undersea, or on land. Learn more at www.ig.space.  
Media contact 
Brad Plothow 
Chief Growth Officer 
Bradp@ig.space