Overview of the Boeing SAOC program (and how it's changing)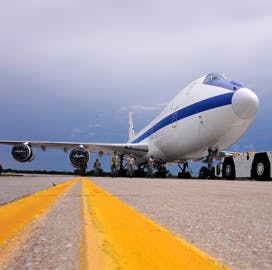 Blog
Air Force One, made famous by the terrible, awesome 1997 Harrison Ford movie of the same name, is a seriously capable, mostly classified aircraft, famous for its primary presidential passenger, its security capabilities, and even its delectable food. However, the iconic plane is not the big cheese when it comes to national security and defense capabilities. That title resides with the United States Air Force's E-4B Nightwatch (along with the Navy's E-6B Mercury).
While one of the two active Air Force One 747-based aircrafts is used to transport the president, the president's family, and selected press darlings, the USAF's $223M-per-copy E-4B Nightwatch (there are 4 currently in service) aircraft is intended to transport the Secretary of Defense and a team of badass intel and command personnel, along with cutting-edge tech capable of surviving a nuclear blast, electromagnetic energy pulses, and other attacks, while maintaining communications to our allied forces laying down hate on the bad guys.
Variously known as the Advanced Airborne Command Post, the National Airborne Operations Center (NAOC), the Survivable Airborne Operations Center, or more ominously as the "doomsday plane," the Boeing 747-based E4B follows behind Air Force One when appropriate during a nuclear emergency, but can also provide invaluable communications and command capabilities during a conventional war, natural disaster or other event that may take out communications across large areas of the United States.
Badass though it be, the E-4B is getting a little long in the tooth, and talks have been underway on a replacement… but lately things aren't as simple as they could be.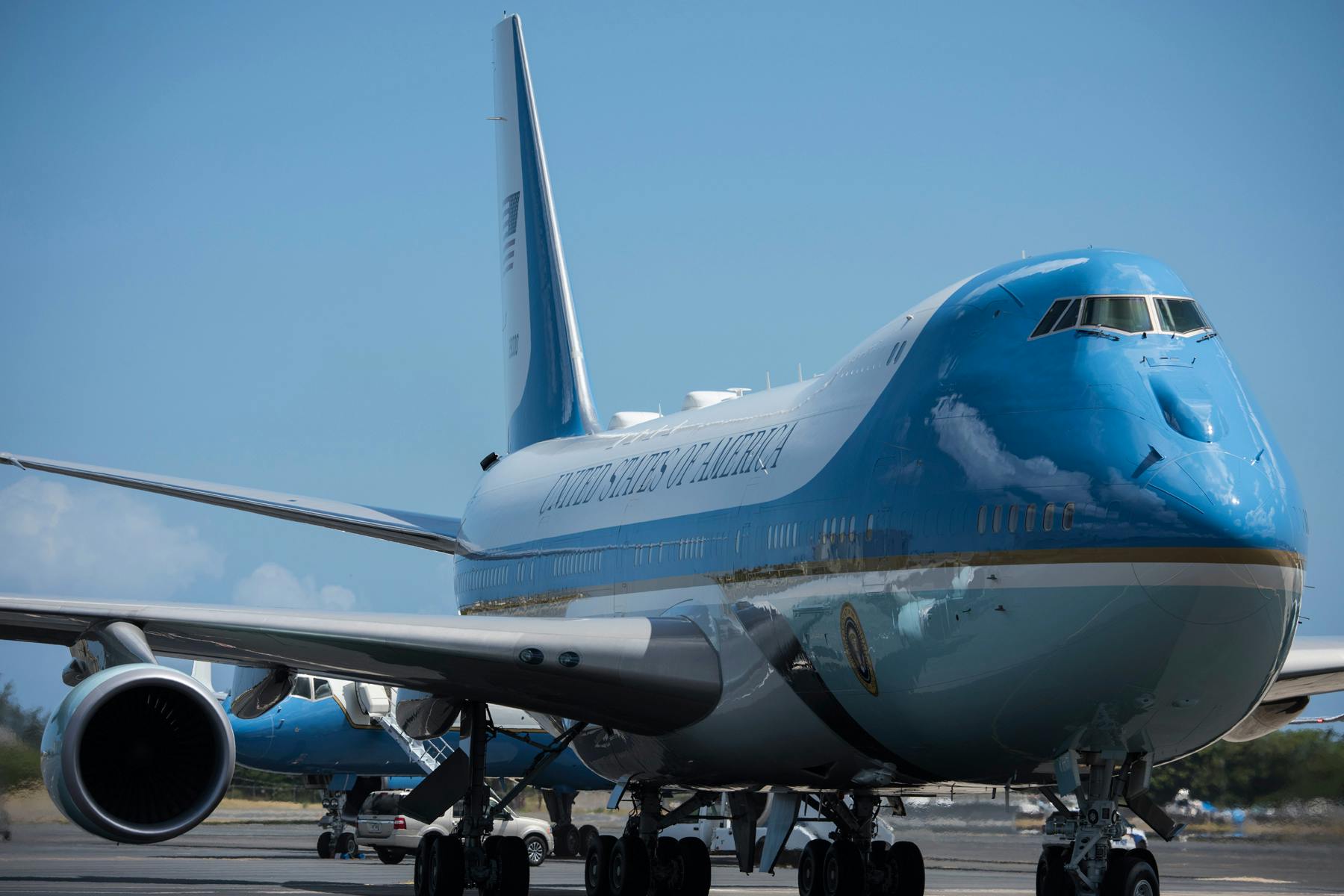 Is the US Air Force planning to replace the Boeing E-4B Nightwatch SAOC?
Since the 747 airframes that have been modified in to the USAF's fleet of 4 E-4Bs have been in service since the mid-1970s, the Air Force has been pushing for an update, which would align with the ongoing modernizations and updates happening for other military systems and platforms such as the NGAD, NGJ, FLRAA, FARA, JSF, and GSBD.
By 2020, it looked like a competition to replace the E-4B was a lock. In February 2020, Breaking Defense reported, "The Air Force intends to issue the first contracts for replacing the venerable E-4B "Doomsday" plane in 2021, with a budget of $76.4 million — more than six times the $12.7 million approved by Congress in 2020. Service budget justification documents . . . show a five-year funding plan of $634.6 million for recapitalization of the services (sic) four E-4B National Airborne Operations Center (NAOC) aircraft." 
The report also states, "Donald Rumsfeld tried to shutter the fleet back in 2006 but there just aren't other aircraft capable of doing what the E-4B can." Remember this, because it will become important later. There may or may not be a quiz.
Industry day (essentially the opening of the new SAOC competition) was set for February 2021, with the traditional process of evaluation, bids, prototypes, competition, and approval/contracts to follow.
And then the pandemic and political upheaval of 2020/2021 happened, with its resulting socio-economic chaos. Whether political, economic, or military priorities were influenced by social pressures, it seems nothing now is "business as usual" where military procurement and spending are concerned.
For whatever reason, the planned industry day in February 2021 didn't happen, and by October 2021, Defense Daily reported that the USAF was shifting gears on its SAOC-acquisition strategy and would potentially be looking into used, commercial derivative aircraft for an E-4B replacement.
In bang-for-the-buck terms, this makes a lot of sense. Save money, make do with what you have, and turn in some tasty budgetary reports to Congress. But it might also be that the current platform is actually the only current or future option that fits the bill, unless the SAOC's requirements change drastically. The Drive in February 2021 reported that the 747 platform is essentially the only one capable of filling the SAOC's requirements, and since Boeing announced that it wouldn't be building any more 747s after filling its current contracts, a new SAOC plane would necessarily be using used commercial 747s as its basis.
A new SAOC plane built on a 747 airframe sounds a heck of a lot like the existing E-4B… so it has become something of a conundrum.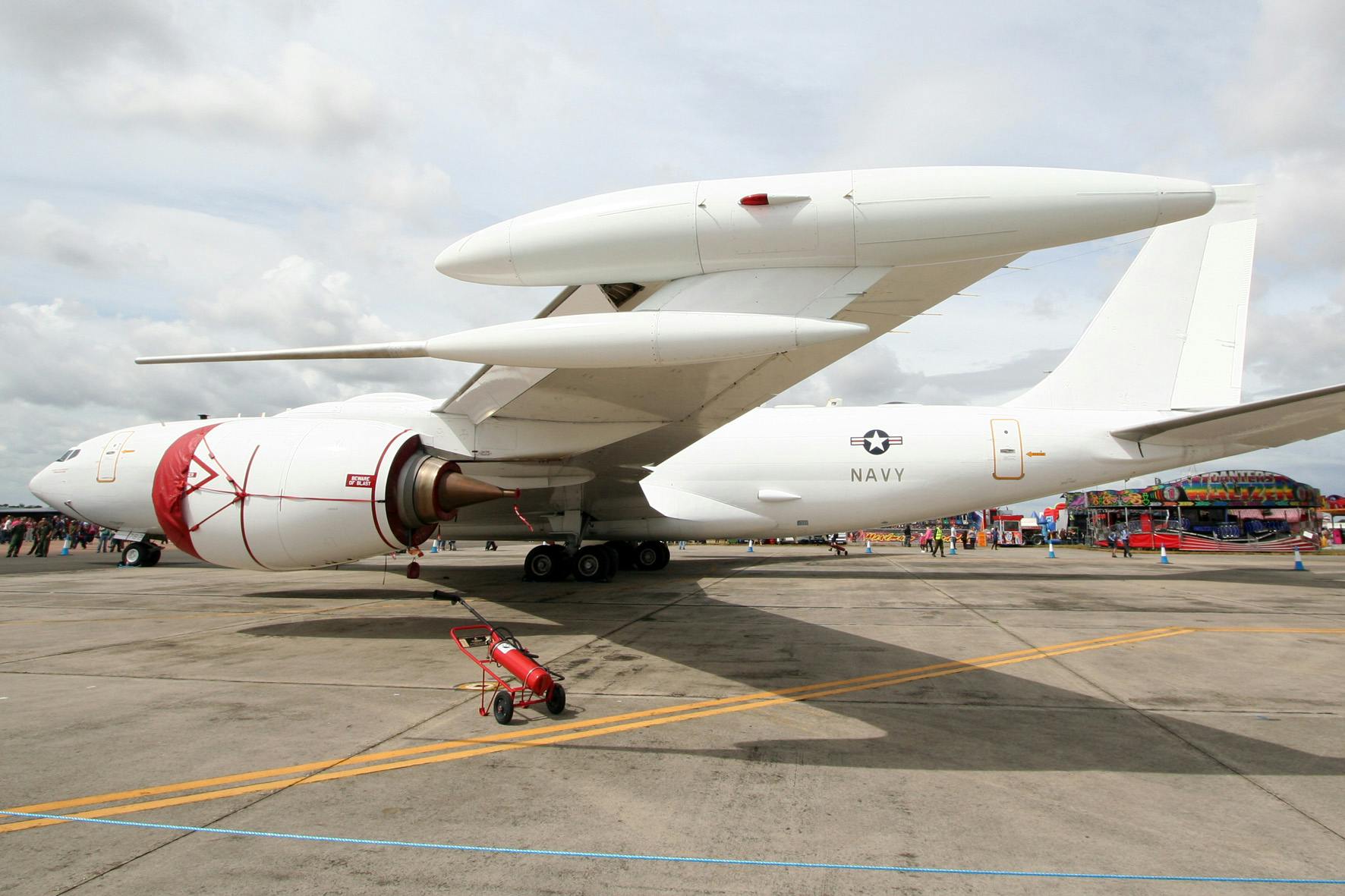 Will one new airframe replace both the E-4B and E-6B SAOC aircraft?
One potential benefit of a "traditional" competition, one that was part of the discussions over the last decade, would be not only the replacement of an aging fleet of E-4Bs, but possibly the consolidation of the E-4B, the E-6B, and the smaller C-32 executive transport jets (currently Air Force Two jets are C-32s) into a single fleet built on a common airframe.
Currently the Navy uses the E-6B (a blinged-out Boeing 707, which is an even older design than the 747) as its airborne control, communications, and command (C3) center. Contrary to popular belief, the USAF's E-4B "doomsday plane" doesn't actually have the capability of actually launching nuclear missiles. This power (at least in an airborne command center format) lies exclusively with the E-6B. The E-6B is a dual-mission aircraft capable of fulfilling either the TACAMO ("take charge and move out") mission or SAOC, and is equipped with an airborne launch control system (ALCS), which is capable of launching US land-based intercontinental ballistic missiles. 
Air Force Times reports, "While the E-4B is a flying command center for civilian leadership and can talk to nuclear bombers, missiles and submarines, only the E-6B can order those weapons to launch."
Todd Harrison, a military aviation expert at the Center for Strategic and International Studies, is a proponent of combining the E-4B and E-6B's capabilities, or at least adding the nuclear launch functionality to the E-4B:
"Why wouldn't you want to add that to your E-4? It makes perfect sense. If you've got a key element of your command authority on the plane, who would be giving the orders, then why not have the physical means of distributing those orders on that plane?"
595th Command and Control Group leader Colonel Brian Golden doesn't see the need for this consolidation, telling reporters in March 2022 that the Air Force should know within the next couple of years whether it will move forward with plans for a more efficient National Airborne Operations Center from the start, or whether it will design new equipment for the current jets, which could eventually be moved to another airframe.
Golden apparently agrees with officials arguing against the consolidation of the three types of aircraft currently in use: "Totally different mission sets, so they have totally different requirements." He added that combining them wouldn't leave enough room for passengers when needed, and he believes that creating a single national command plane would limit the Pentagon's options for keeping in contact in a crisis.
That's assuming the efforts to consolidate the TACAMO and SAOC concepts into one airframe pan out, which it now appears is unlikely. In fact, the Air Force Times report states that budget documents no longer describe the Survivable Airborne Operations Center as an airframe to consolidate the E-4B and E-6B.
So, at least for now, we wait on the USAF's decision on whether to move forward with plans to replace the E-4B, or to update current inventory. In any case, we're glad there's a secure, smart, safe place in the sky for our decision makers to work when things go bad on the ground.
–By Jeff Davis, Intergalactic Scribe
Sources:
https://www.airforcetimes.com/news/your-air-force/2022/05/10/does-america-need-its-doomsday-plane/
https://breakingdefense.com/2020/02/air-force-to-kick-off-e4-b-replacement-competition-in-2021/
https://www.thedrive.com/the-war-zone/39313/requirements-for-new-air-force-doomsday-planes-seem-to-preclude-anything-but-747s
https://www.defensedaily.com/u-s-air-force-looking-into-acquisition-strategy-possible-used-commercial-derivative-aircraft-for-e-4b-replacement/air-force/
https://www.defensenews.com/air/2020/10/07/the-air-force-pushes-off-the-start-of-its-e-4b-doomsday-plane-replacement-program/