Ultimate guide to electric vertical takeoff and landing (eVTOL) air taxis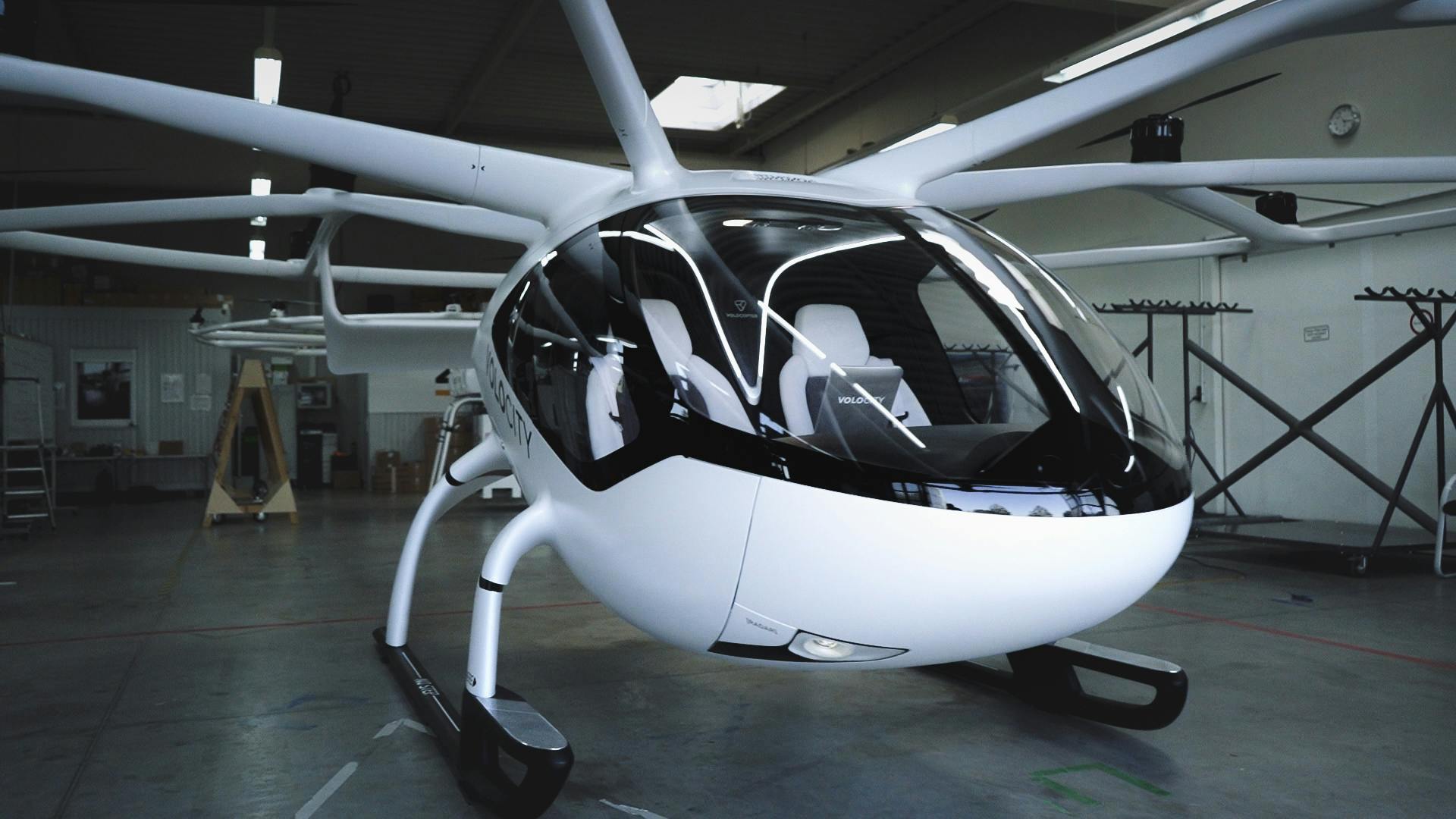 Blog
Ever try to actually hail a cab? Or order a taxi for a scheduled pickup? It's a pain, even in cities like New York, Paris, or London where taxis and public transportation are the primary way people like to get around. 
The now-cliche bad taxi experience (language warning) is one of the primary reasons rideshare companies like Uber and Lyft have taken the world by storm. They reduce or eliminate the hassle of hailing, scheduling, riding in, and paying for traditional taxis. Well, get ready for another sea change in the world of personal-transport-for-hire: eVTOLs.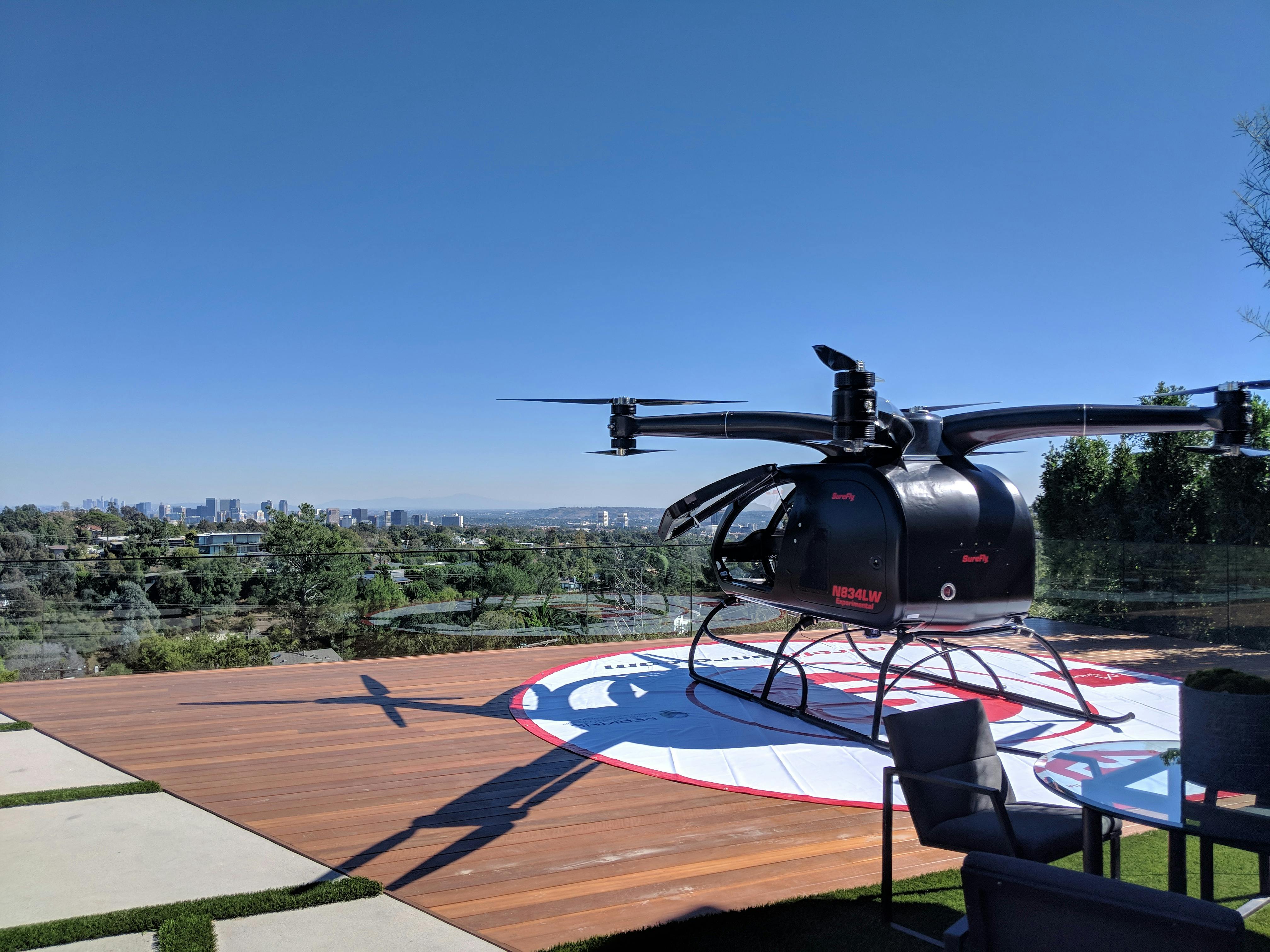 What is an eVTOL, and what does eVTOL stand for?
EVTOL stands for Electric Vertical Take-Off and Landing vehicle, and these new aircraft designs are instrumental in a new movement toward Advanced Air Mobility (AAM), and/or Urban Air Mobility (UAM). AAM is the concept and development of infrastructure for a safe, automated air transportation system for passengers and cargo in urban and rural locations. UAM is a subset of AAM and focuses on lower-altitude operations within urban and suburban areas. 
An eVTOL, for the purposes of today's discussion, is essentially a personalized helicopter taxi for one or more passengers, but potentially much quieter, less polluting, hopefully safer, cheaper, and (this is key) potentially fully automated, making it ideal for daily commutes and intra-city travel. Eventually. There are still some pretty serious bugs to work out, as we'll discuss below.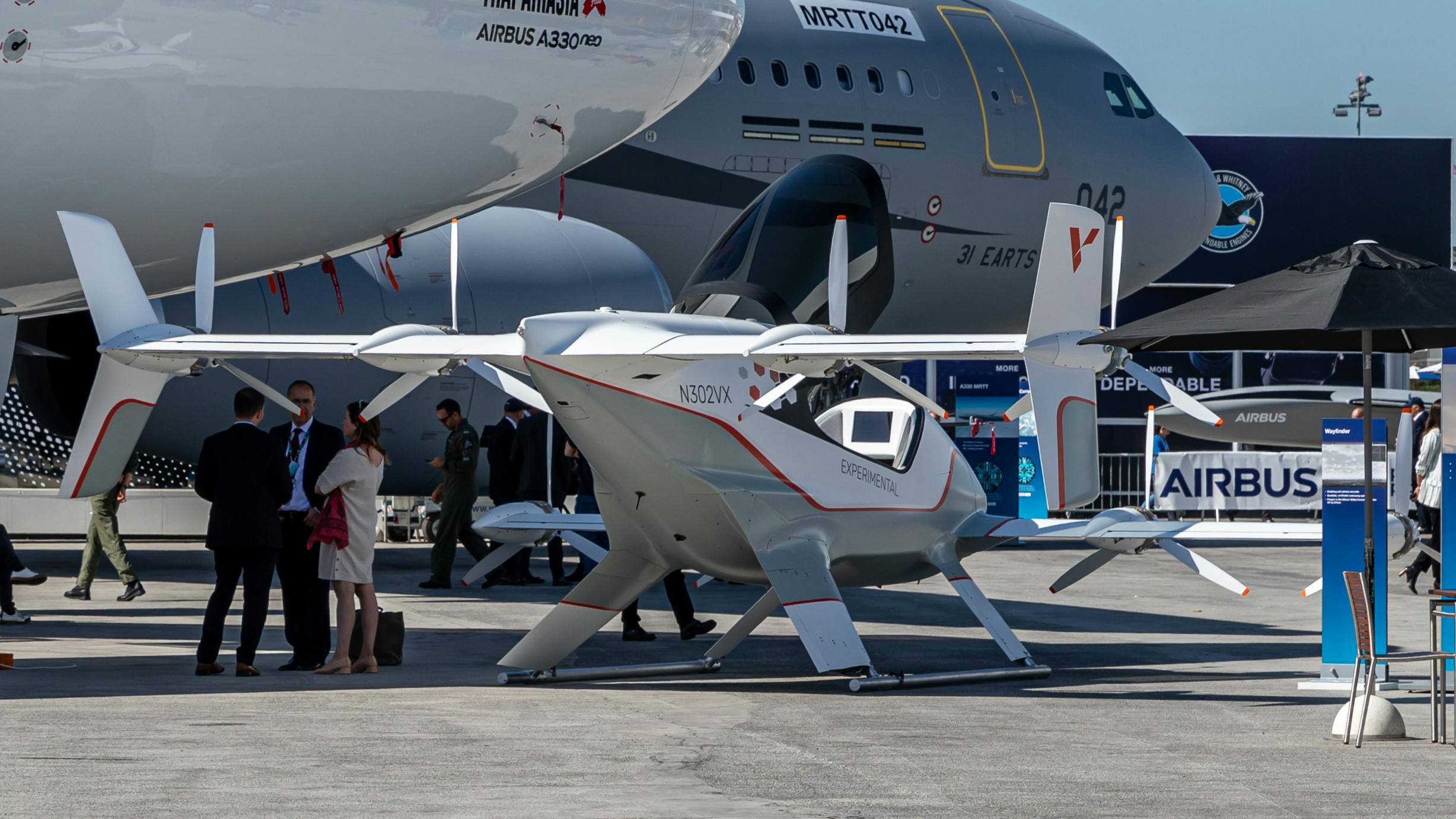 What are the leading manufacturers and designs for eVTOLs currently?
The "tube and wing" configuration for traditional aircraft (airplanes) was pretty much standardized in the early 20th century and hasn't really changed all that much since. But eVTOLs open up an exciting new world of possibilities. 
The purpose of the eVTOL is fundamentally different from, say, a modern passenger airliner. Projected travel distances are much shorter. Passenger numbers may range from up to 9 to as few as 1, if the designs we've seen are to be believed. Since most prototypes are fully electric, engineers don't have to account for large or bulky amounts of fuel. And, since directionally vectoring/rotating lift fans or propellers are the norm, traditional wings aren't required for lift.
This arena is a veritable playground for aircraft and aerospace geeks, and we're excited to see which companies break out of the pack and reward their investors with profits and their passengers with safe, convenient travel. 
Let's have a look at some of the frontrunners:
Vertical Aerospace
Vertical swears their (admittedly kinda badass-looking) 5-passenger VX4 fully electric eVTOL is "Faster, quieter, greener, cheaper… With speeds over 200mph, near silent when in flight, zero emissions and low cost per passenger mile, the VX4 is going to open up urban air mobility to a whole range of passengers and transform how we travel."
Cool story, and we're hoping every word comes true. The (comparatively large) aircraft resembles an updated version of Airwolf, but with a large main wing including 4 rotating lifter/puller fans, two rear lifter fans, and a huge V tail. Add some frickin' lasers and it's ready for the next James Cameron movie.
Volocopter
Volocopter says Paris has chosen it as its UAM partner and "testing is underway." Their fully electric VeloCity 2-seat, autonomous air taxi resembles a pod with a circular frame network above, supporting multiple electric props.
Volocopter emphasizes their creation of an entire UAM ecosystem, confidently touting that "very soon, you'll be able to book a flight in one of our VoloCitys on your phone, jump on board at one of our VoloPorts, and arrive at your destination in minutes – with no emissions to speak of. Meanwhile, the VoloIQ will act as the control tower for our urban air mobility ecosystem, ensuring a seamless experience. And our VoloDrones will deliver your bulky cargo while you sit back and enjoy the breathtaking city views. Sounds good, right?"
Joby Aviation
Joby is taking a somewhat "interesting" tack on the eVTOL concept, at least in their marketing approach. Flying in their 6-fan, fully electric, 4-passenger (plus one pilot) design aims to "feel more like getting into an SUV than boarding a plane." Americans raised in Chevy Suburbans and Ford Expeditions should feel right at home.
One thing we are fully onboard with is Joby's commitment to keeping it quiet. "Quiet as a conversation," they say. According to Joby, Guy Norris from Aviation Week reported that "The aircraft made only a partially perceptible sound that, in this editor's view, would almost certainly be undetectable against the everyday noise background of an urban environment."
Joby has led out on a multi-year testing program with the FAA to certify their eVTOL for commercial operations and in May 2022 received Part 135 certification from the FAA. 
Eve
Eve is planning to initially launch their fully-electric eVTOL as a fairly conventional-looking (in this new space, at least), helicopter-esque design, which they say will be "initially piloted" but "ready for autonomous flight." We think that's probably a good call. 
Eve emphasizes the "people's eVTOL" aspect of the 8-lifter-prop, 2-pusher-fan concept ("Design for all," Easy access for everyone," etc.) and points out their 4-passenger eVTOL aircraft interior will accommodate wheelchair users, visually impaired users, etc. With investors around the world throwing fat stacks of money at multiple eVTOL startups, it's important to differentiate. We'll see if Eve's volksflyer strategy helps them make it off the ground.
Lilium
Lilium's entry into the is "first electric vertical take-off and landing jet." If you just did a double-take when reading that, so did we. Electric jet engines? How does that work?
Basically, Lilium's "e-jet engine" is a "single stage" rotor/stator system driven by an electric motor, or "Ducted Electric Vectored Thrust (DEVT)." So, multiple, super-high-speed electric fans housed in the "flaps" of the eVTOL's 4 wings, which can be rotated down for vertical takeoff and landing. And it does sound like a (somewhat quieter) jet.
The Lilium eVTOL has room in its interior cabin for a premium 4-seat, economic 6-seat, or cargo-carrying layout.They've been refining this design since 2015. Check out Lilium's flight test video.
Lilium says their eVTOL is currently in Type Certification with both the FAA and the EASA (European Union Aviation Safety Agency).
Kittyhawk
Per the company's website, "Kittyhawk is building a single-person, remotely-piloted electric aircraft with the goal of making airtaxis affordable, ubiquitous and eco-conscious."
Founded by self-driving car pioneer Sebastian Thrun and backed by Google co-founder Larry Page, Kittyhawk is one of the pioneers in the eVTOL world, with flying prototypes in the air since 2010. They say they are currently flight testing three days a week, and their "current R&D aircraft, called H2, has flown a hundred miles on a single charge and up to 180 mph."
They don't say whether that hundred miles included the weight of a passenger or not, but they reveal that they are "now working on our next-gen product for commercial launch." If we had to lay a bet on which eVTOL companies have the potential to break into the mainstream, Kittyhawk would be a frontrunner.
Archer Aviation
Archer's fully electric eVTOL design is called "Maker," which earned them a $10M pre-delivery payment from United Airlines for 100 eVTOL aircraft. The Maker has a strong resemblance to Vertical's helicopter-with-a-wing concept, but Archer apparently is doubling down on more-is-better, with 6 rotating lifter/puller props and 6 lifter props.
Archer, founded in 2018, is a relative newcomer to this vertical (see what we did there?), but they have ambitious goals, shooting for a 2024 deadline for achieving Type Certification on their production aircraft from the FAA, and receiving Part 135 certification with the FAA, which will allow for the commencement of commercial business operations.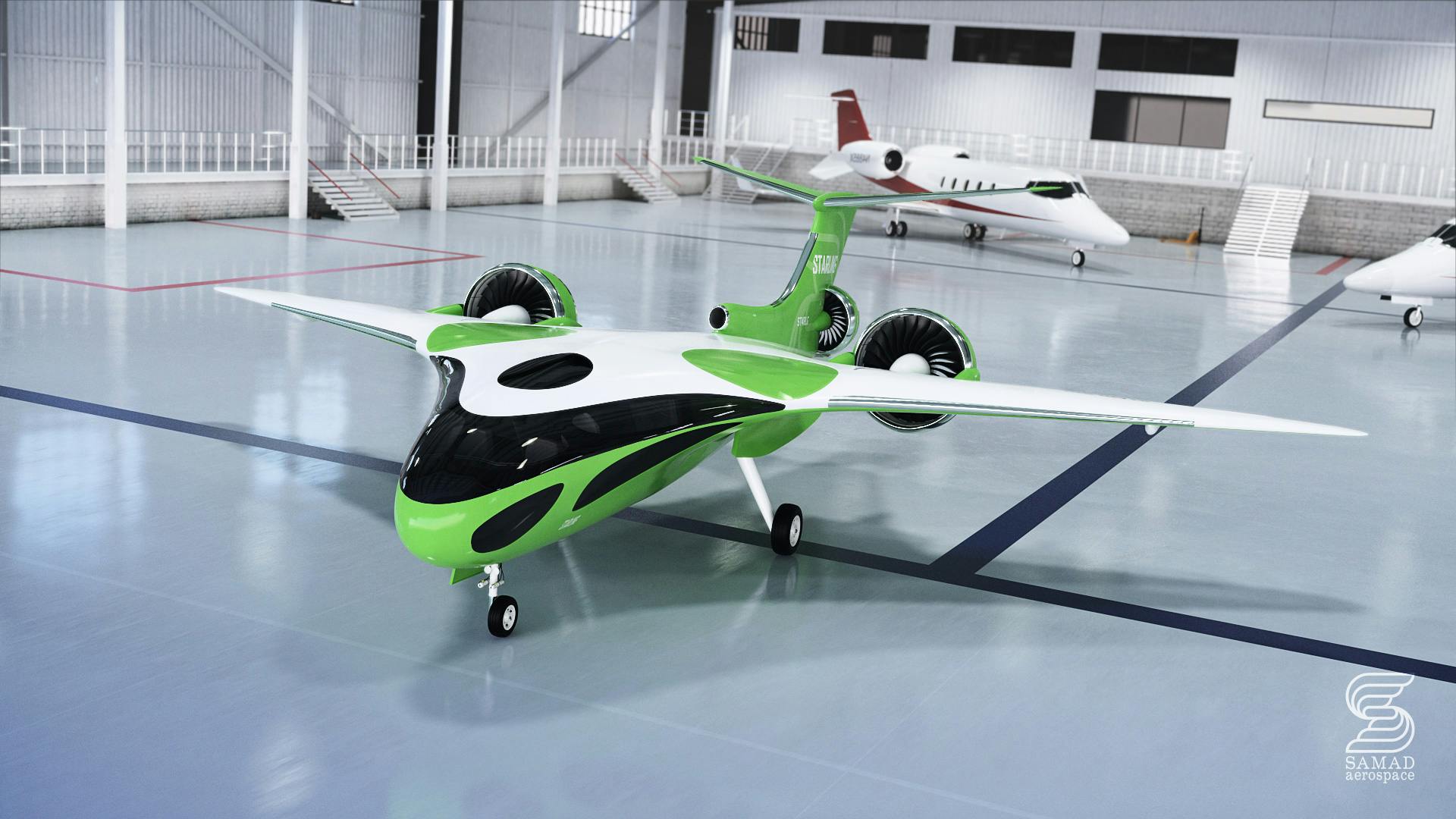 So… are eVTOLs safe?
If you read the press kits of the various companies hoping to cash in on the coming eVTOL craze, they're safe as houses. However, Bloomberg is just one source reporting multiple crashes, fires, and glitches of eVTOLs.
Bloomberg says, "One prototype air taxi suffered a software glitch, lost control and nosed into a field. Another's computer erroneously thought it was on the ground, shutting off power in flight and plunging it onto the pavement. Batteries on two more burst into flames." Sounds like a thermal management problem, so you know we're all over it. 
And the problems aren't limited to the tiny, silicon-valley startups with no flight experience. Biggies like Boeing and Bell Helicopter have had eVTOL accidents during testing, according to a Bloomberg review of reports dating back to 2018.
"No one has died or been injured, and advocates say accidents are a healthy sign that the industry is pushing the envelope. But the new electric-powered… eVTOLs use innovative technologies that haven't been tested in routine service, and some safety experts say this means the road to government approval and public acceptance won't be easy."
While internal combustion engined (ICE) and jet-powered VTOL aircraft have been in military service for decades, the new eVTOL designs have naturally been experiencing teething problems. One reason is the perceived need for "low or zero-emissions" powerplants. There are hybrid-electric, fully electric, and potentially even hydrogen fuel-cell designs, but the frontrunners are basically all powered by lithium batteries.
As we've seen in land-based Electric Vehicles (EVs) like Tesla, weight is a constant issue. We've come a long way in the design of higher-output, longer-lasting battery packs for EVs, but compared to traditional ICE designs, EVs still need to be far heavier in an apples-to-apples comparison of power, range, and "refuel" time.
However, as we mentioned above, eVTOLs aren't intended for long-range transportation, and ostensibly any eVTOL company would have enough air taxis in its fleet to maintain a perpetual supply of fully charged (or fueled, depending on the powerplant) birds so refuel/recharge time per unit wouldn't be an issue. 
Additionally, since projected trips would ostensibly be a few miles, or within a set radius of major cities (at least at first), an eVTOL wouldn't need to have the 300+ mile range of a modern ICE automobile. 
However, the electronic systems and battery packs being developed for eVTOLs have to stand up to a bit more rigor than ground-based EVs. After all, in a Prius hybrid, you have the benefit of an ICE engine to extend range. And if you run a Tesla's battery completely dead, you simply coast to a stop—you don't drop out of the sky to your death.
As noted above, the lithium batteries used by most eVTOL designs have burst into flames on several occasions in test flights (as well as in ground-based EVs). This is certainly not self-immolation in response to a customer refusing to pay the fare, like the auto-taxi Johnny Cab, but it also doesn't necessarily instill a lot of consumer confidence, either. Thankfully eVTOL makers are working with at least one of your favorite thermal management innovators to deal with these heat problems.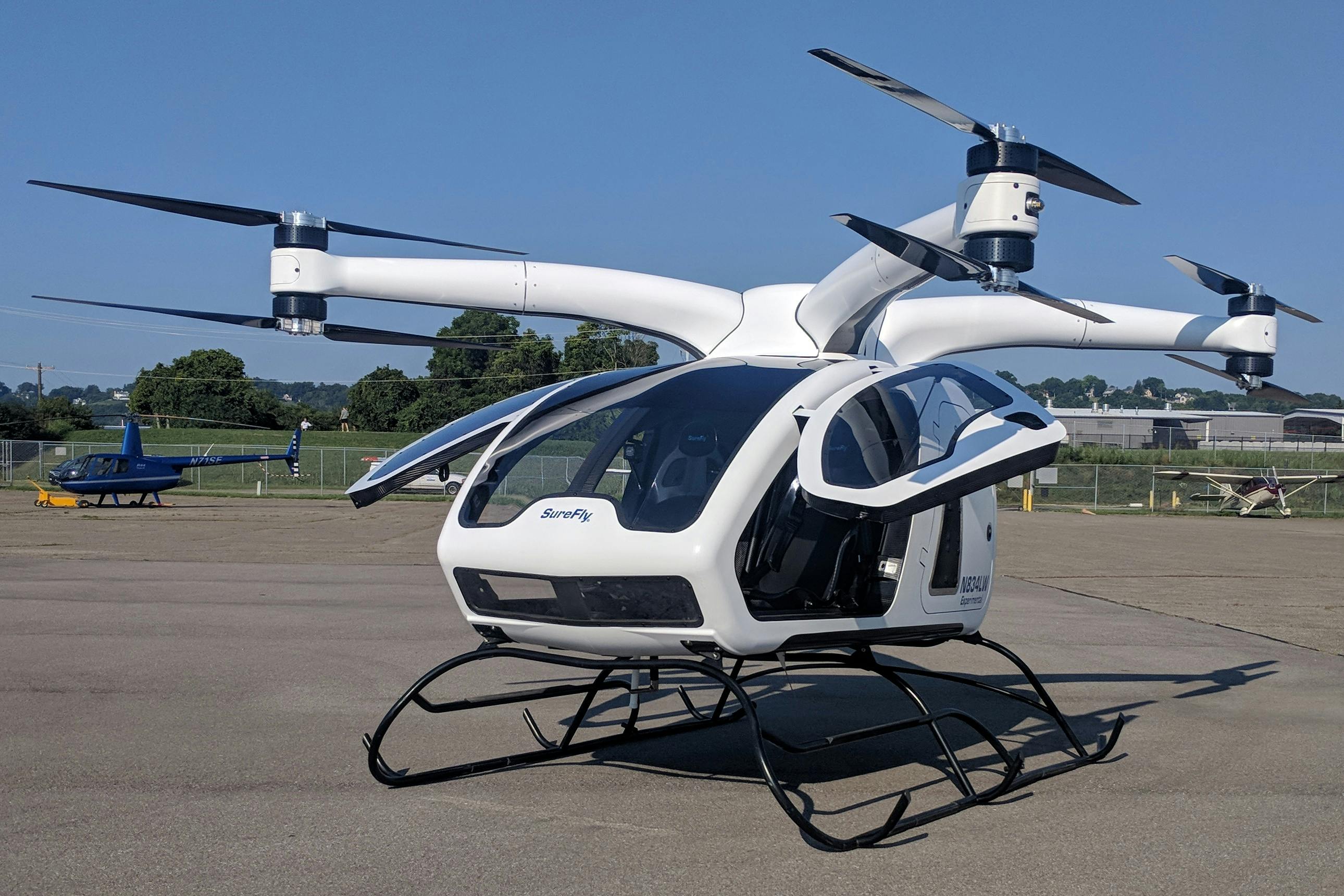 What's the timeline for FAA certification for eVTOL aircraft?
Bloomberg reports the FAA "is preparing to certify a handful of the new aircraft to carry people as soon as 2024." However, DroneDJ cites a recent change in the FAA certification approach that may cause some concerns among eVTOL makers, and potentially delays: "the Federal Aviation Administration (FAA) has changed its thinking on how it will certify electric takeoff and landing (eVTOL) aircraft for air taxi use." 
The report says, "The main point of change centers on the perspective from which the FAA will analyze eVTOL craft for certification, not necessarily different criteria it already laid out with makers of air taxis and other urban air mobility vehicles. Under the FAA's recently appointed acting administrator Billy Nolan, the regulator has decided not to apply Part 23 regulations for small fixed-wing aircraft as previously planned. Instead, it will certify eVTOLs as 'power-lift' conveyance as stipulated in federal aviation regulation in 21.17(b). That special class is situated somewhere between light passenger planes and helicopters – which, to be fair, is pretty much how next-generation air taxis and UAM craft will be operating."
The FAA has always been (understandably) rigid about flight certifications for new designs. Safety is always paramount. Hopefully the future of personalized transport lives up to the hype, and we can see the projected 2024 FAA certification come to fruition. Whether or not enough people will be willing to put their lives into the hands of an automated, airborne taxicab is a whole other issue.
–By Jeff Davis, Intergalactic Scribe
Sources:
https://www.bloomberg.com/news/articles/2022-07-29/evtols-keep-crashing-and-bursting-into-flames-during-testing-phase
https://dronedj.com/2022/05/20/faa-changes-to-evtol-certification-spook-air-taxi-developers/
https://observer.com/2022/06/air-taxi-evtol-joby-archer-progress/